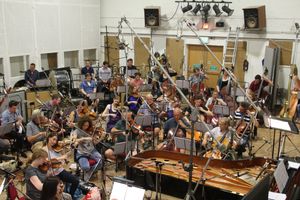 Most albums are built around a performer. Places Far Away is built around a composer using multiple orchestras and solo artists to create a stunning musical adventure.
Daniel's Bio
Daniel Fisher is a composer from Holland, Michigan, USA. How does one go from engineering to composing epic melodies and recording with the best orchestras in the world?
The many years leading up to the album release of Places Far Away make it a compelling story.
After decades of composing music, a chance meeting with internationally known composer and pianist Ian Mulder set the wheels in motion. Ian liked Daniel's music and encouraged him to take it to the next level. When Ian was in the UK recording a new album, he invited Daniel to be a part of the process. "By participating in the recording, editing, and mixing, I could better visualize and hear how orchestral instruments interacted in new ways.  It was a crash course in orchestral composition, working with some of the best musical talents in the world." On the plane ride back to the States, Daniel worked on "Touch the Himalayas," applying much of his new learnings to the composition.
Later, a similar situation presented itself, and not only did Daniel meet up with Ian again, but Ian offered to have the orchestra record one of Daniel's pieces. "Stealing the Night" was recorded with the Royal Philharmonic Orchestra at Abbey Road Studios. He later recorded "Not Even the Rain," a love song to his wife, with piano maestro Paul Bateman and Pieter Schoeman, first violinist and head of the London Philharmonic Orchestra. Ian continued to invite Daniel to join him each time he'd go back in to the Studio. The result is an album unlike any other. While most albums are built around a performer, Places Far Away is built around a composer (Daniel) who used multiple orchestras and renowned solo artists to create the album. What the listener hears is an album that's eclectic, timeless, adventurous, and beautiful. 
It stands to reason that having an unorthodox childhood might lead to some unorthodox pursuits. It could be said that growing up as the child of the military could check that box.  A recent article on the subject concluded that while it's difficult to really study this subculture as they eventually age out, most of them are adaptable, can fit in with many cultures and, if they don't go in to the military themselves, tend to follow a more creative path. This would be certainly true of composer Daniel Fisher, a perfect illustration to this assumption.