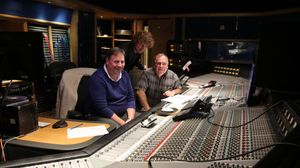 Air Studios is one of the best recording studios in the world. Four pieces from the Places Far Away album were recorded here. But, most of the pieces for the album were edited and mixed in the post processing studio room shown above. Pictured above on the left is Geoff Foster, the sound engineer for most pieces of the album. Next to Geoff is Ian Mulder, a renowned composer and pianist from the Netherlands, who helped pave the way for Daniel's recording for is new album. On the right is Daniel.
Air Studios used to be a church. It has since been converted to a music recording studio.
Inside the church is the famous Lyndhurst Hall which is the main recording studio. It is not only beautiful, but has amazing acoustics. Many famous films and recording artists have record here.
 Recording Spirit Garden, Amicizia, and Almond Blossom Rhapsody with the London Philharmonic Orchestra