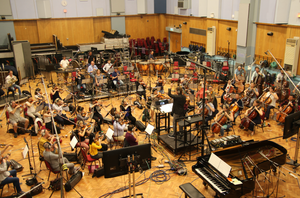 The London Philharmonic Orchestra
The London Philharmonic Orchestra, one of the best orchestras in the world, has played six pieces for the Places Far Away Album. They are an amazing orchestra and a lot of fun to work with. We recorded in three different session in both Air Studios and Abbey Road Studios.
Recording Almond Blossom Rhapsody, Amicizia and Spirit Garden at Lundhurst Hall at Air Studios
Recording at the beautiful Lundhurst All. The orchestra was wonderful and he acoustics are amazing.
A great view of the studio are from the balcony section. Air Studios used to be a church.